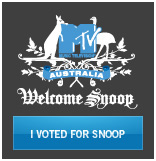 G'day Pals,
Sowy I've been MIA fow a while. Mum has been working evwy night till almost 2 am. She has lots of students and they keep giving hew papews to wead. I know I could do a bettew and fastew job of mawking them. Asta up over says just to chew them up, but I think mawking them would be fun too!
Meanwhile, I've become awawre of a sewious pwoblem in Austwalia. They are twying to keep dogs out of Austwalia. Thewes a dogg called Snoopy and they won't let him come hewe. They say he's a cwiminal. I'm not suwe what that is, but mum says that it used to be a requiwement for moving to Austwailia. This is so confusing! I'm suwe Snoopy could be rehabilitated if he just had some help fwom the Dog Whispewer, then went thwough quawentine. Snoopy wants to live in Melbouwne like me and my mum. I figuwe if they let mum into Austwalia, they can let Snoopy in too! You can vote fow getting Snoopy out of the dogg house and into Austwalia at:
http://www.mtv.com.au/snoop/
I'm planning to spend my weekend getting weady fow Asta up over's Paw-ty and will post again soon!